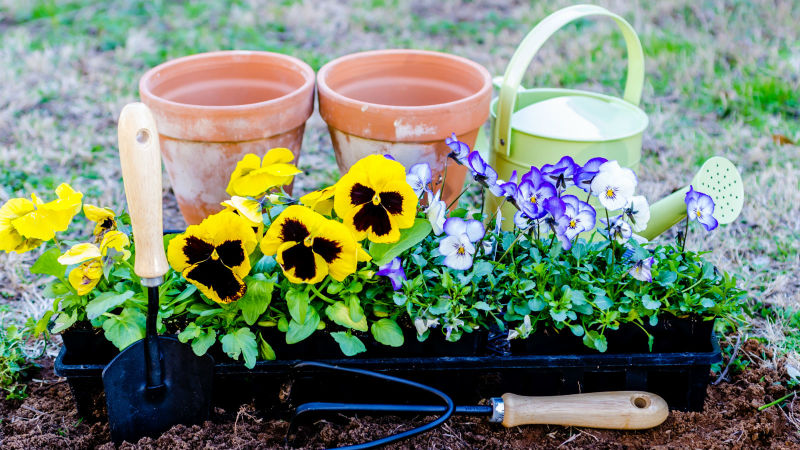 CONTINUING PROJECTS AND ACTIVITIES
Pressed Flower Design: 
Pressed Flower Designers hold workshops to learn the techniques on how to press the flowers and create items such as cards, jewelry, bookmarks, etc.

Members present programs at other garden clubs on how to press flowers.

Provide pressed flower artwork for District IV meeting bags, favors for special meetings and events, judges, and program speakers.
Engage interest and activity in civic beautification and landscaping:
Design, plant and maintain gardens and containers at Camp Hill Borough Building, the Frankenburger Tavern Garden in Mechanicsburg, the Ruth Greiner Memorial Garden at New Cumberland Library, Adam-Ricci Park in Enola and New Hope Ministries in Mechanicsburg.
Encourage appreciation of flower arranging:
Provide floral centerpieces for special meetings:  November Benefit, May Herb Tea, and District IV meeting. Daffodil exhibit at April meeting.
Inform and encourage membership and develop leadership:
New members' tea with PowerPoint presentation for new and not so new members.

Attend state sponsored Leadership Workshops. 
Community Outreach:
Community Garden:  Oversee the operation of 129 raised bed garden plots at Ames Community Gardens in Shiremanstown. 

Schedule educational Garden Talks open to the public

Coordinate donations of vegetables to New Hope Ministries Food Bank.

Garden Therapy plans and oversees craft and gardening projects for preschool children.  Kathy Brenneman, Garden Therapy Chairman.
Conservation:
Participate in the conservation of trees, plants, bird life and all natural resources. (Birds, Butterflies, and Wildflowers Committee and Conservation Committee)

Plan hikes to view Birds, Butterflies and Wildflowers.

Register member gardens for the Million Pollinator Garden Challenge. 

A conservation booth at Mechanicsburg Earth Day and the Plant Sale. 

      
Scholarships:
Award a $1,000 scholarship to a high school senior entering a college or university

Award a $1,000 scholarship to a current college/university student who attends a four-year college/university with a major in horticulture or fields related to PCGC's mission.

Partial reimbursement for members who pass NGC courses

Sponsor candidates for GCFP scholarships.
Donations:
Support NGC projects by contributing $68 to Penny Pines, $50 to Natural Disaster USA, and $50 to Global Partners Running Waters. $25 donation to the GCFP Book of Recognition in memory of each deceased member

Donate $2,000 to efforts or organizations whose goals dovetail with PCGC's mission to protect the environment and natural resources.

Donate $450 to three area libraries.

$50 donation to District IV Flower Show.

$50 donations to Master Gardeners in lieu of payment for program speakers
Ways and Means:
A Scholarship and Community Projects Benefit Holiday Market and Luncheon is held annually.  Speaker is acquired, money is raised through ticket sales, vendor booth fees, bake sale and white elephant sales.  Items acquired from donations of members, businesses are raffled off.  Floral designs are awarded as door prizes.  

Restaurant fundraisers are planned to raise funds and as a get-together.

Plant sale offering plants from members' gardens and donations from commercial nurseries.  Garden-theme items and bake sale goods are sold.

Members donate to Terracyle recycling not only to keep items out of the landfill, but to raise funds. 

The Pressed Flower Designers sell their wares at regular club meetings, district meetings and other venues.
Board Meetings, Pressed Flowers and Floral Design Guild meetings are held at the Giant Food Store meeting room on the second floor, 3301 Trindle Road, Camp Hill, PA 17011.